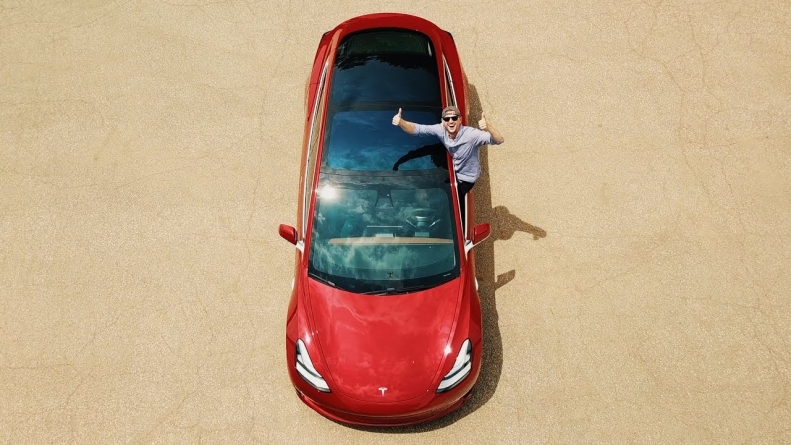 Elon Musk says Tesla will be out of 'production hell' in a month as they start ramping up to 10,000 Model 3s per week
While Tesla managed to achieve a Model 3 production rate of 5,000 units during the last week of the second quarter, it doesn't mean that they are out of "production hell", which is what CEO Elon Musk has been calling the difficult part of the production ramp.
Now the CEO is optimistic that it should be "over in a month" as they now ramp up to 10,000 units per week over a longer period of time.

Musk made the comment in an interview with Bloomberg Businessweek last week:
"The past year has been very difficult, but I feel like the coming year is going to be really quite good," he said. He still had "one foot in hell." He said manufacturing hell will be over in a month.
The comment comes after Tesla achieved its 5,000 Model 3's per week goal by pushing its manufacturing team extremely hard.
The CEO slept on the factory floor for 5 days. He said:
 "I feel like I have a great debt to the people of Tesla," he says, his voice cracking with emotion. "The reason I slept on the floor was not because I couldn't go across the road and be at a hotel. It was because I wanted my circumstances to be worse than anyone else at the company. Whenever they felt pain, I wanted mine to be worse."
Musk added:
"You know," he continues, "at GM they've got a special elevator for executives so they don't have to mingle with anyone else." ("Typical Elon, deflecting from the real issue, which is the ability to mass-produce at scale and with quality," says GM spokesman Ray Wert.) "My desk is the smallest in the factory, and I am barely there," he says. "The reason people in the paint shop were working their asses off was because I was with them. I'm not in some ivory tower."
Tesla now says that they are trying to push to 6,000 units per week by next month, but Wall Street is even skeptical of the automaker maintaining the current production rate.
A reason why Musk might be optimistic about finally getting out of "production hell" is that the rest of the ramp should be less aggressive.
Technically, they are only halfway through the production ramp since they plan to produce the Model 3 at a rate of 10,000 units per week.
While Tesla virtually doubled its Model 3 production capacity over a single quarter, the next doubling should be over about a year.
The automaker investor relation team held a meeting with investors and analysts this week and the company reportedly disclosed that they are now aiming for a production rate of 7,000 per week by the end of the year and 10,000 per week by mid-2019.
Tesla reported to still having about 420,000 Model 3 reservations at the end of last month and originally planned to be at 10,000 units per week by the end of 2018.
Electrek's Take
It means that the second part of the ramp up is a little slower since they should still be able to work through the US and Canadian backlog fairly quickly at 5,000 to 7,000 units per week.
The next big boost of orders will come with the international expansion, which is not planned until next year, and the standard battery pack, which should be available around the end of the year.
In the meantime, Tesla should be focusing on nailing the production process at 5,000 to 7,000 units per week without having to do these ridiculously difficult production sprints.
Those sprints are still useful to figure out the bottlenecks in the production process and where the capacity stands on shakier grounds, but it's hardly a long-term solution.
I'd like to see Tesla produce Model 3 at 5,000 units per week with a high-level of quality and profitably before even attempting to ramp to 10,000 units.
As we already discussed before, Tesla's production of 5,000 long-range all-electric vehicles per week is unprecedented in the auto industry and should be celebrated regardless, but I think it might be time to focus on sustainability.
Via Electrek